Home » FTB Direwolf20 (1.16.5)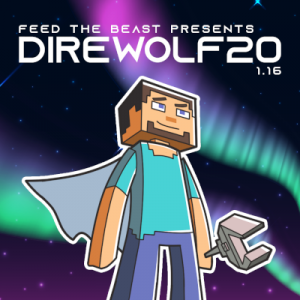 Direwolf20 – 1.16.5
 BETA 
To join Direwolf20 Server you will need  the FTB launcher found here
ip: dw20.minewonderland.com
modpack ver. 1.8.0

Warning! The END resets every server restart; Ratlantis, Nether, Undergarden resets every month.
Server features:
economy
land claims
player shops
random teleport
teleportation
Items banned in Overworld:
– Builder, Digital Miner
Items banned everywhere:
Spatial io, spatial pylon
Storage bus
Storage scanner
Refined storage items
Refined pipes
Duskflame hex
Engraved thunder
Exchange scepter, building scepter
Frost bringer
Advanced magnet
Cave illuminator
TNT, TNT upgrade, grenade
Fulminating, inferno, tectonic, glacial explosive
Shield projector (tier 3,4)
Ender hopper
RFTools dimensions
Other:
no autorank system (under development)
no global ranks (under development)
no global chat (under development)
Additional banned items can be added at anytime without warning.